Slash RS Paints

Located near Quemado, NM

The sire, an AKC and ASCA registered Australian Shepherd,

LorA Slash RS Slick.

Bella is 3/4 Australian Shepherd and 1/4 Border Collie.  This makes the pups 7/8 Australian Shepherd and 1/8 Border Collie

575-773-4170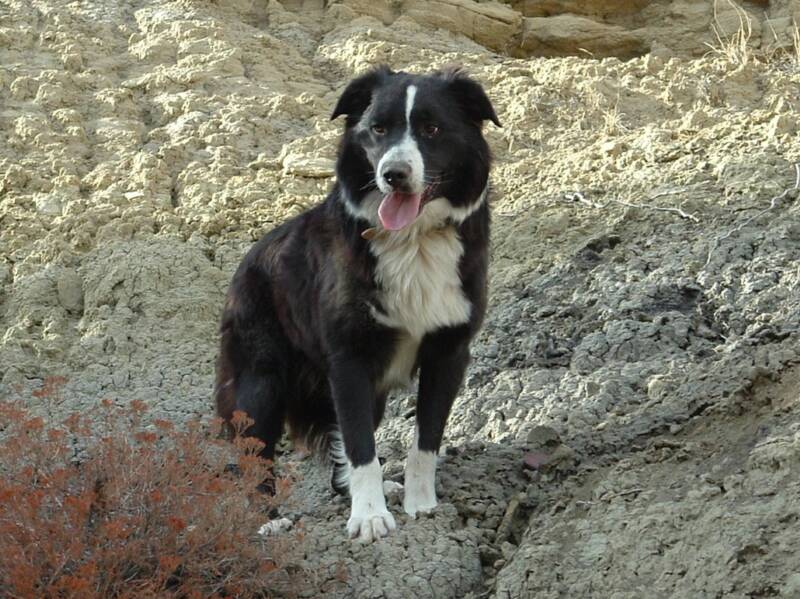 AKC and ASCA Australian Shepherd Sire:

Lor A Slash RS Slick

Slick is very intelligetn, obedient and quiet around the house and people. He has a very mellow and laid back attitude, even around strangers.  He is a working fiend on cattle.  Really has  a lot of drive and desire to work.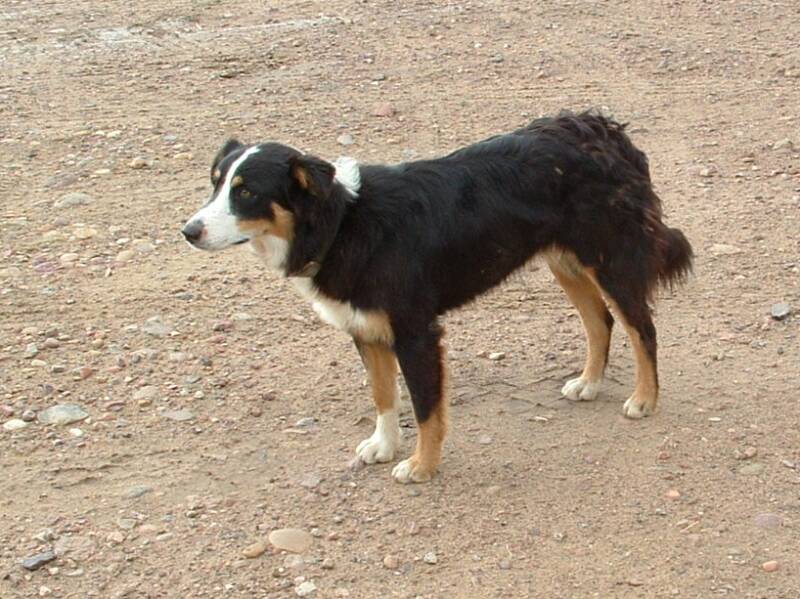 NKC Registered Queen Isabella, Breed: Great American Cattle Dog

Bella is a reagistered dog of 3/4 Australian Shepherd registerd parents and 1/4 Border Collieregistered parents. 

This is a good cross with plenty of grit from the Aussie side and the intelligence of both.  Bella will follow hand and voice commands.  She is also a good watch dog, telling me when strangers approach, without barking incessantly.  She is  quiet around the house and very affectionate.  She is a good working dog, but we must say her first love is WATER.  Of any kind or size.  If you want a dog predisposed to enjoy water activites, consider one of her pups.   Please note:  Bella and Slick are from two different registries, pups may not be registerable.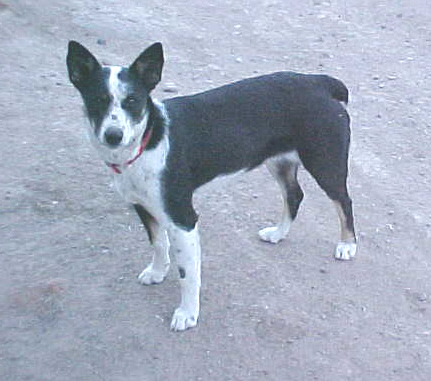 Tuffy, gone but not forgotten...

Call me at 575-773-4170--and leave a message, as I am hard to catch in the house.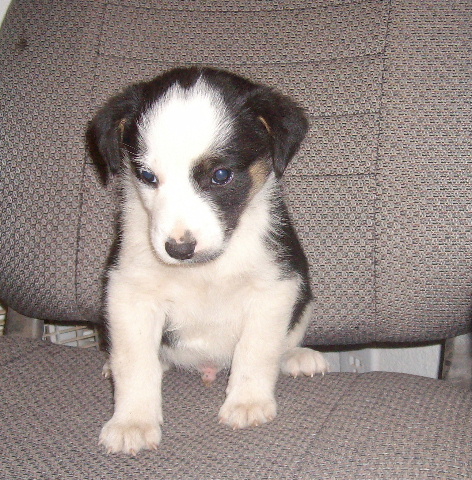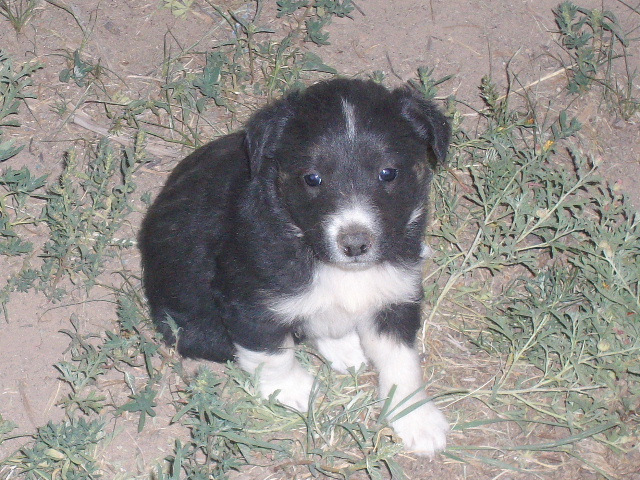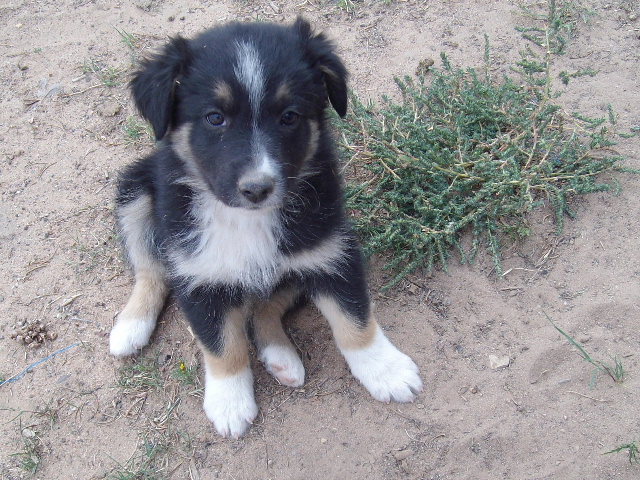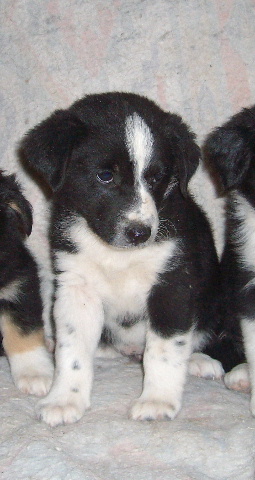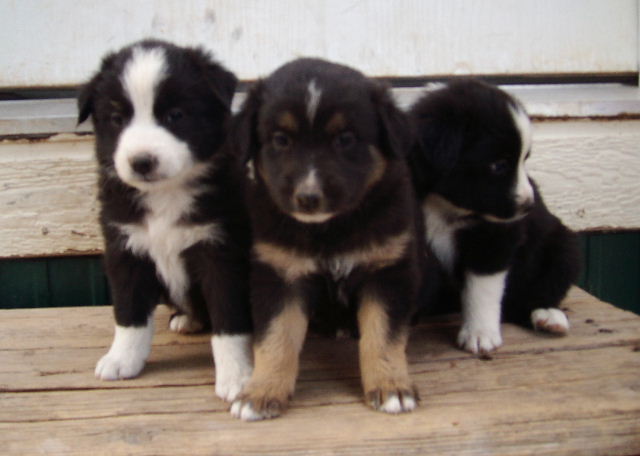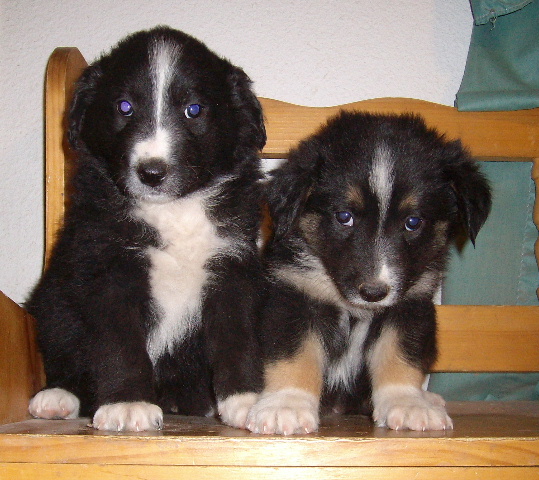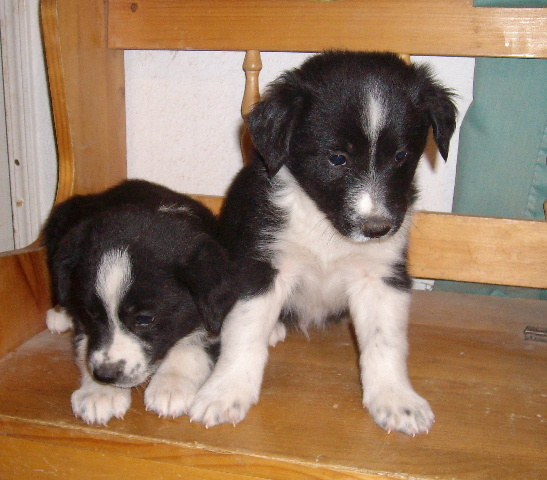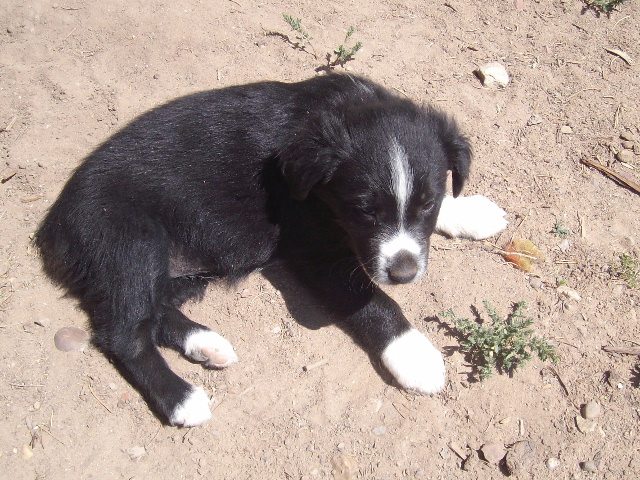 Pics from previous litters, all sold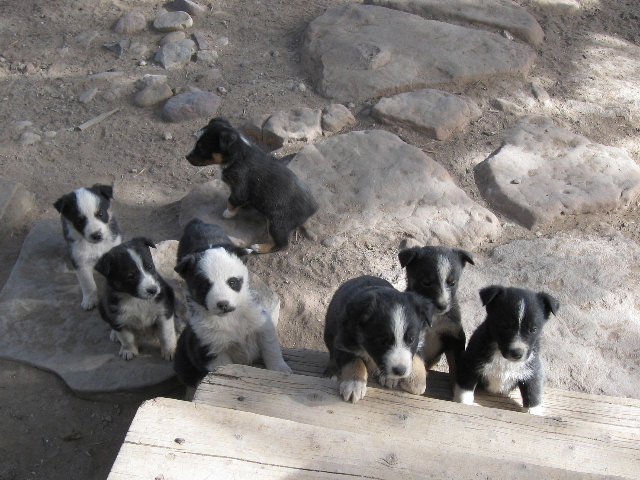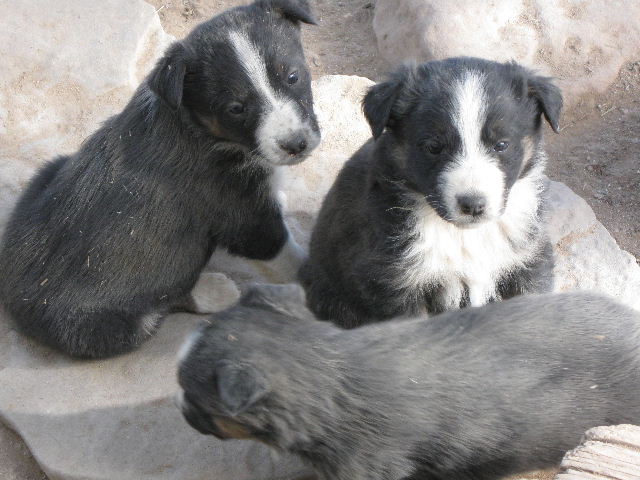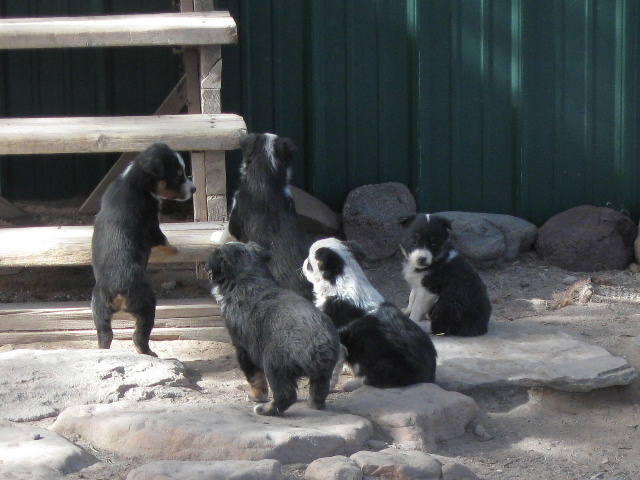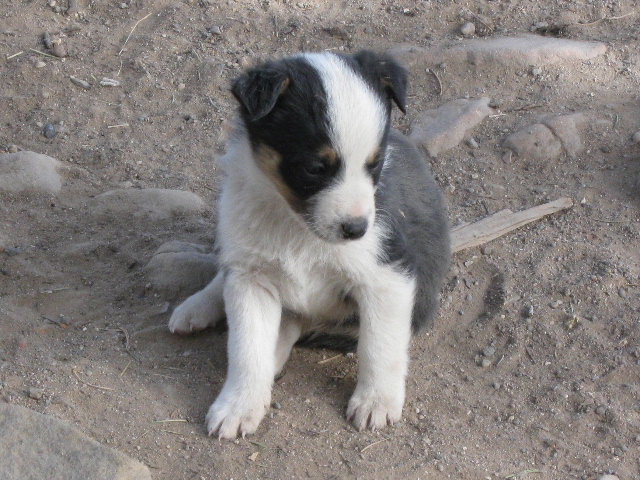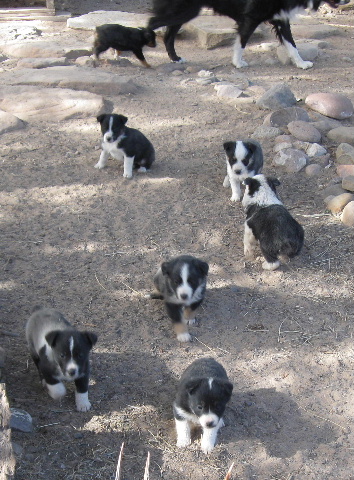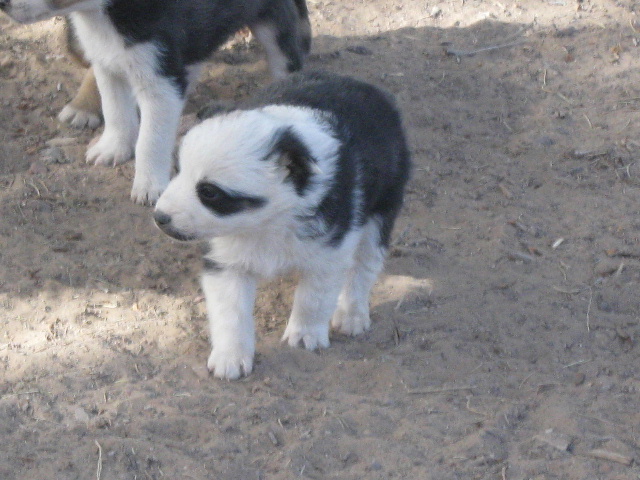 Wtihout a doubt the cutest puppy, Peter Panda has already gone home with Penny.  Thanks Penny and enjoy him!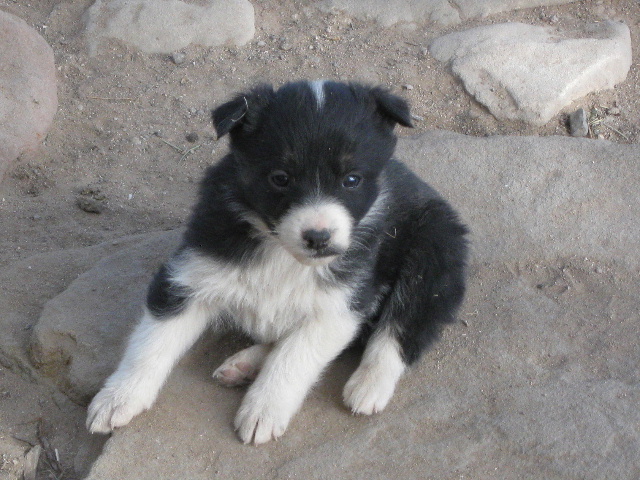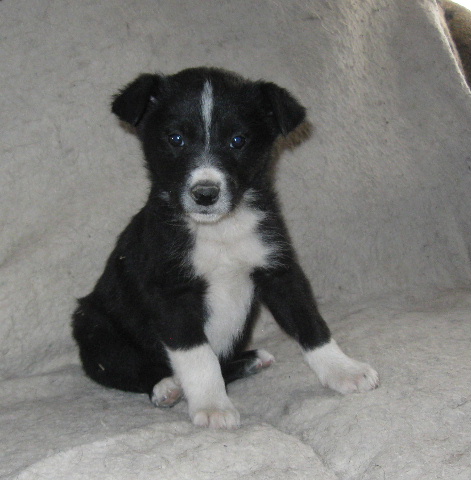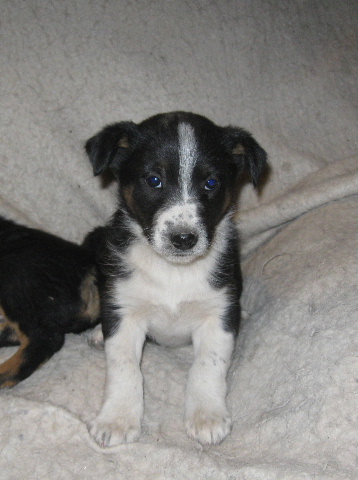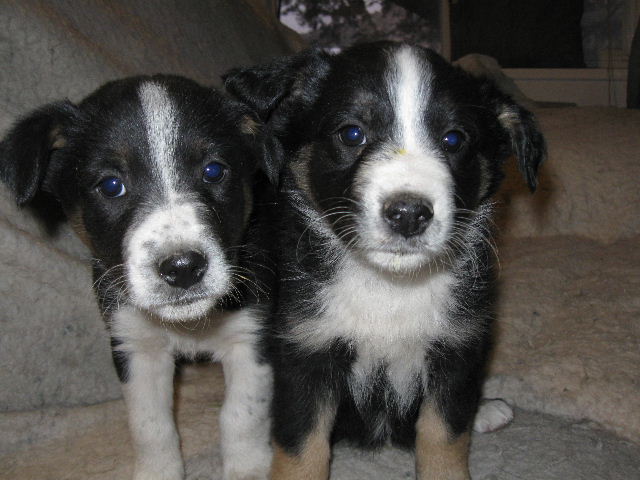 Thanks Monet and Steve for taking both these guys  home!!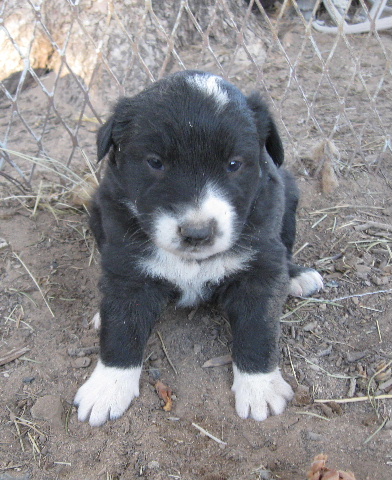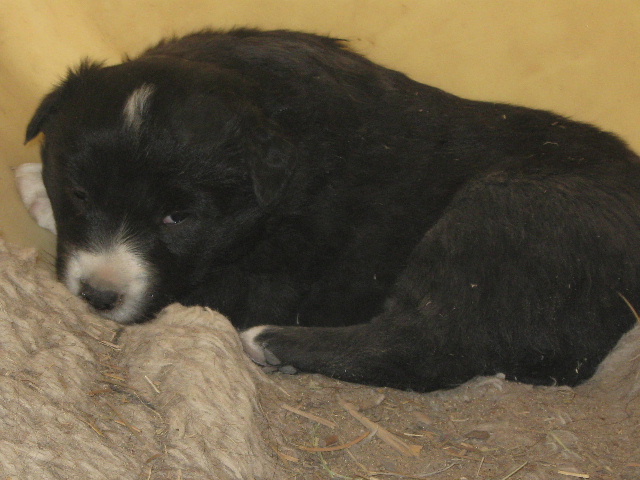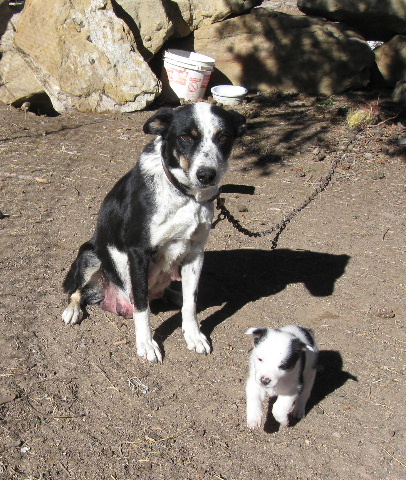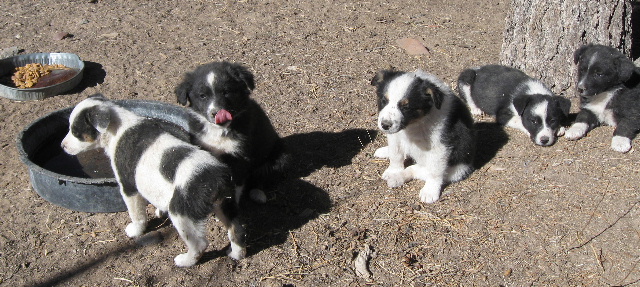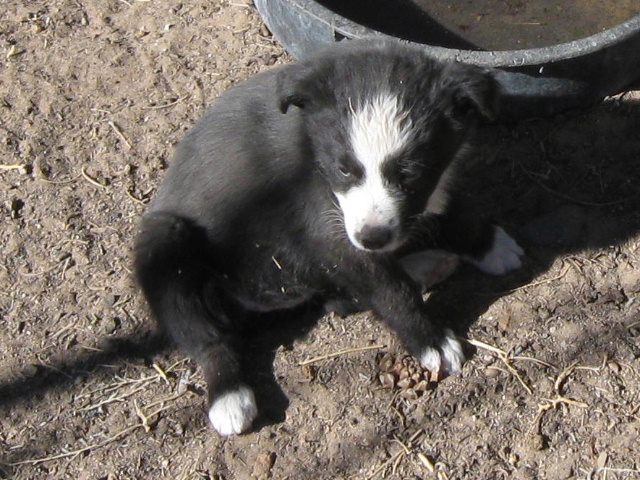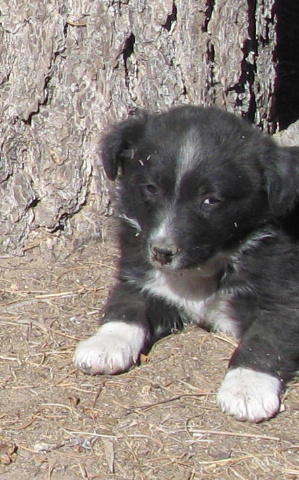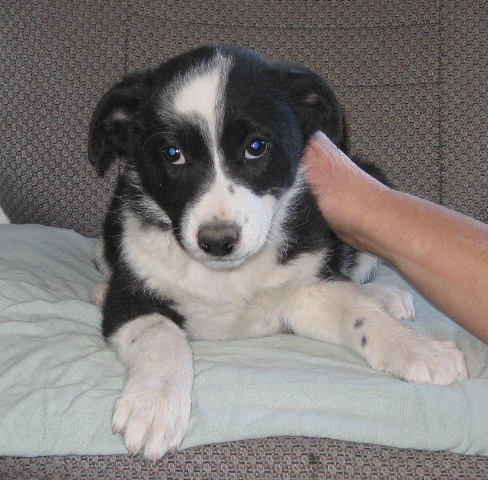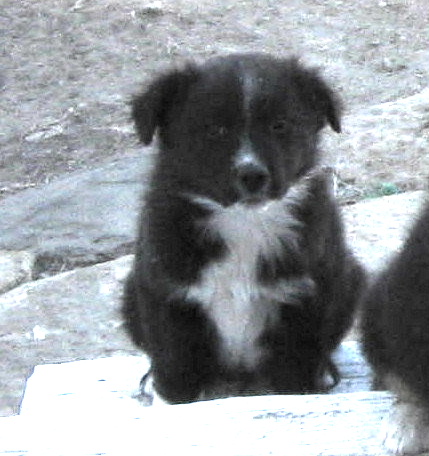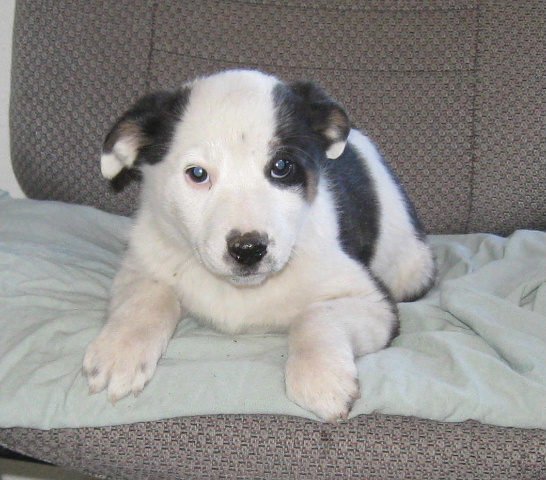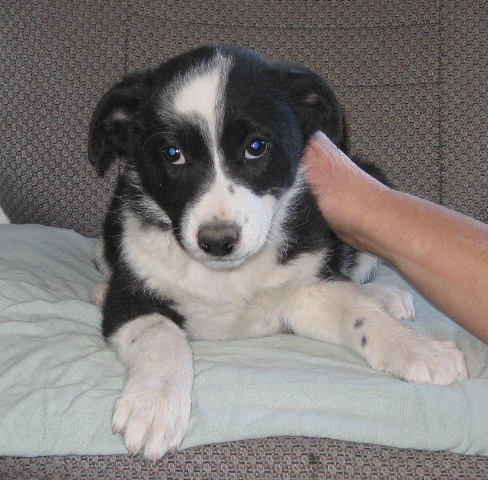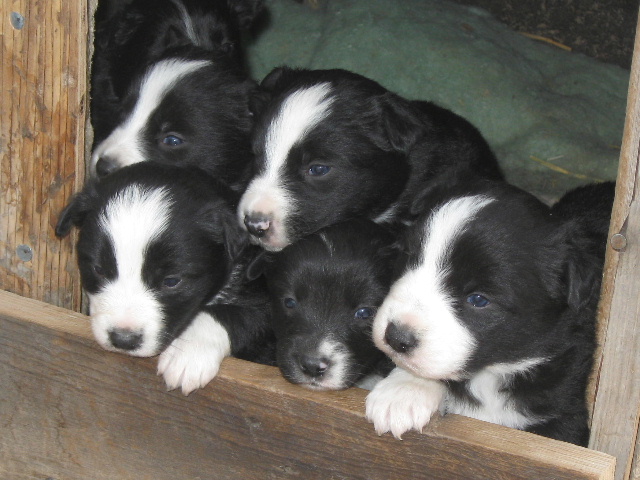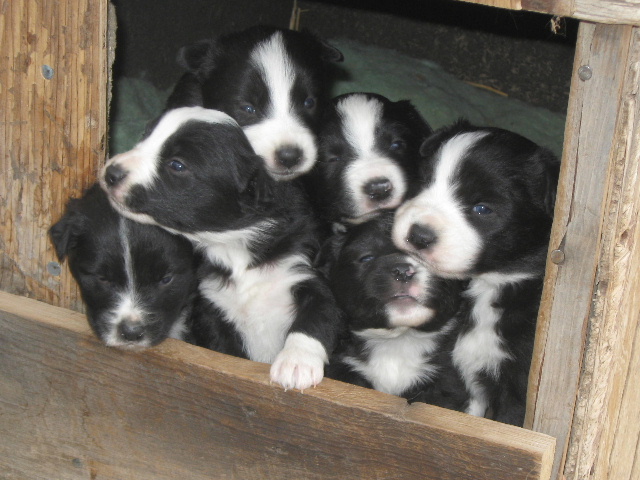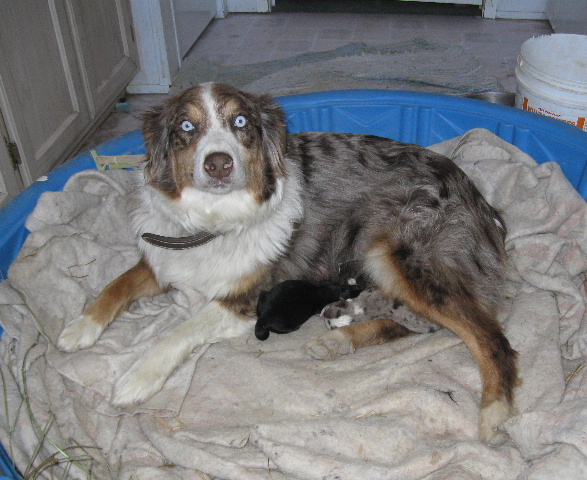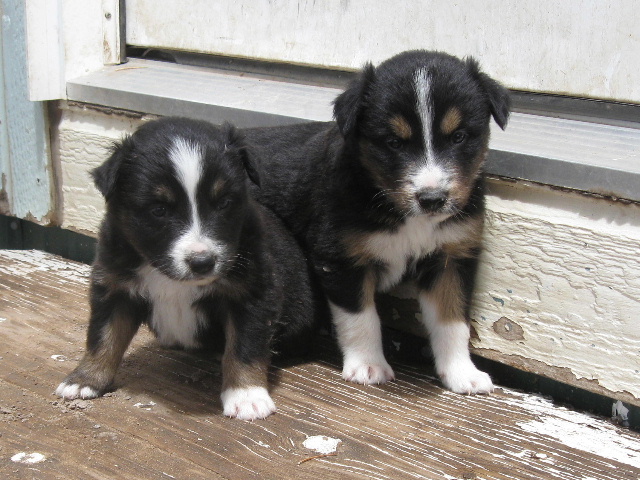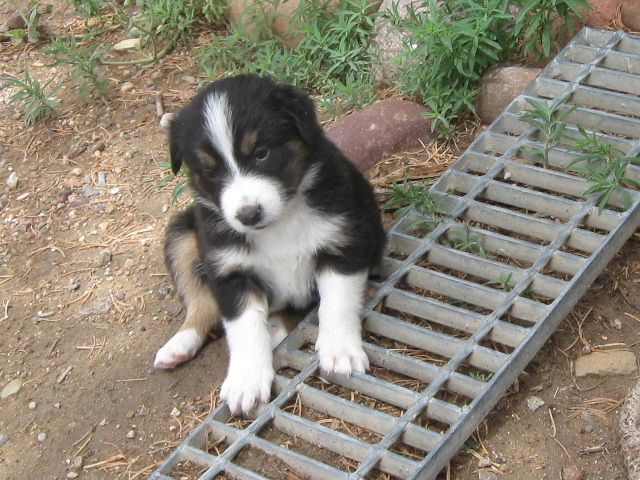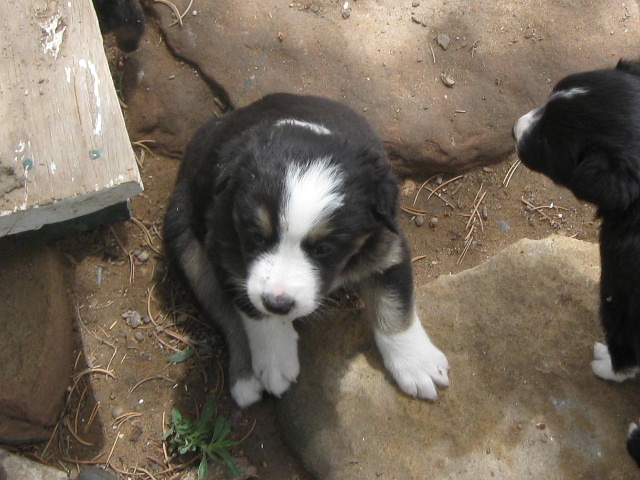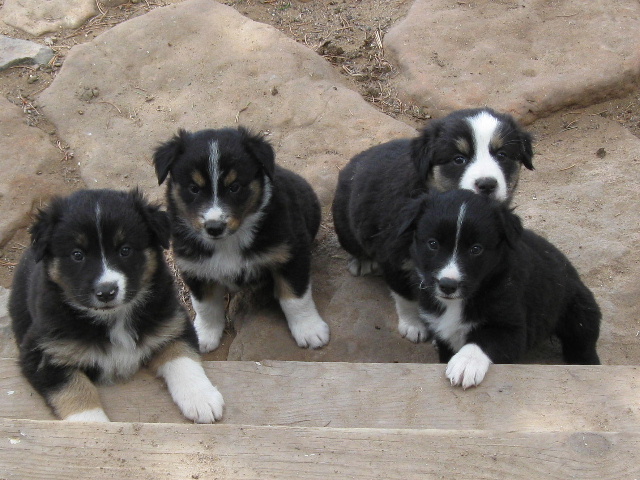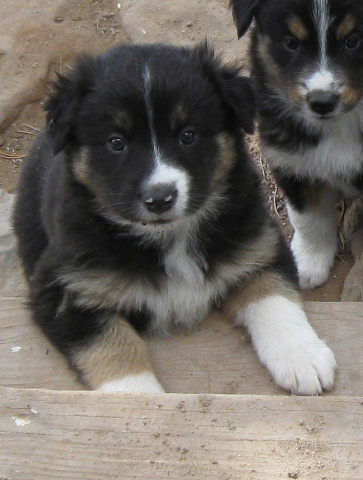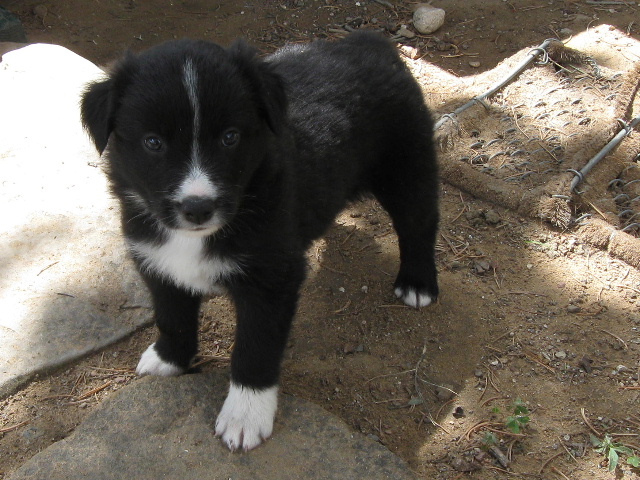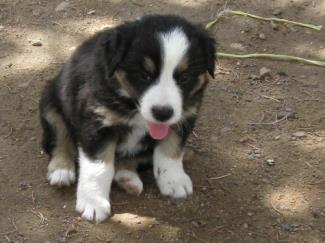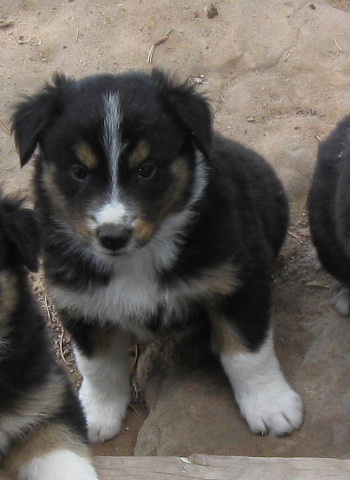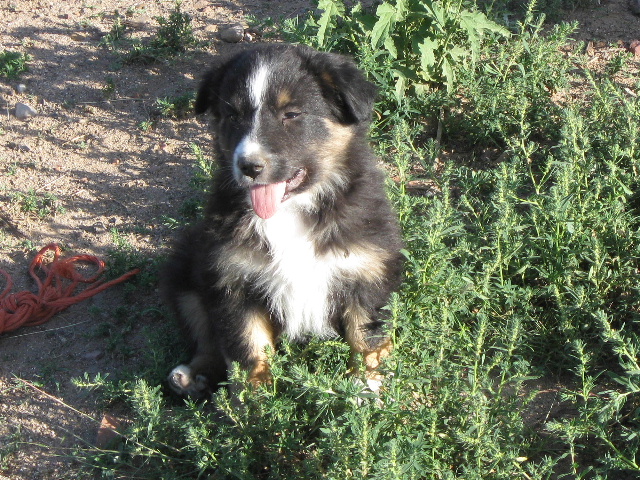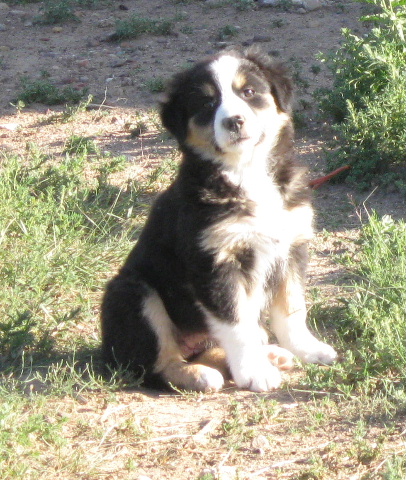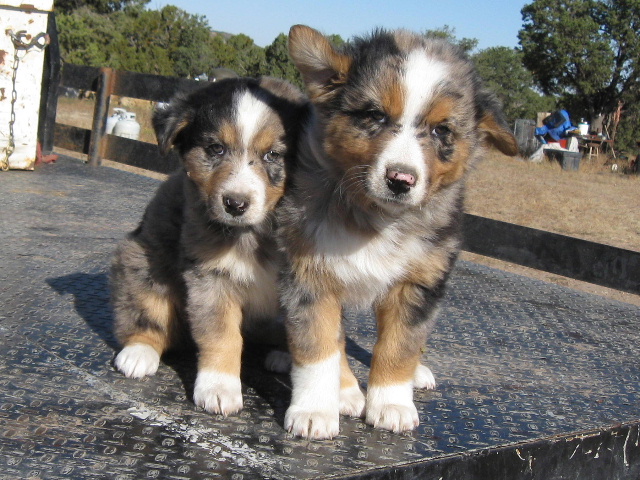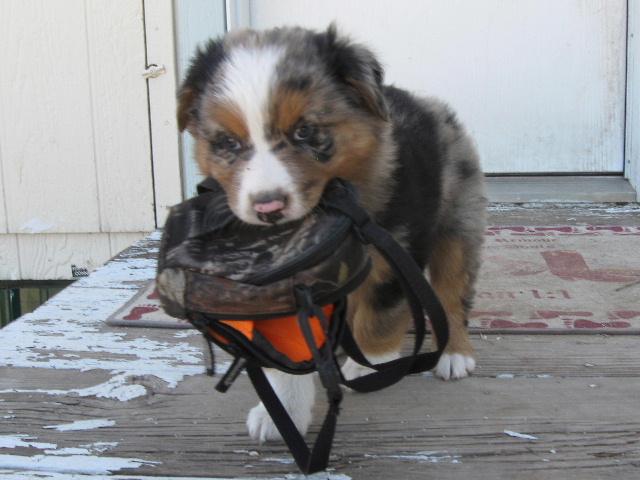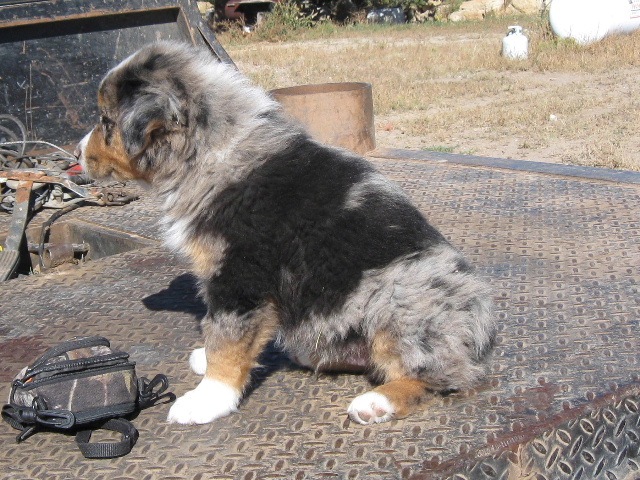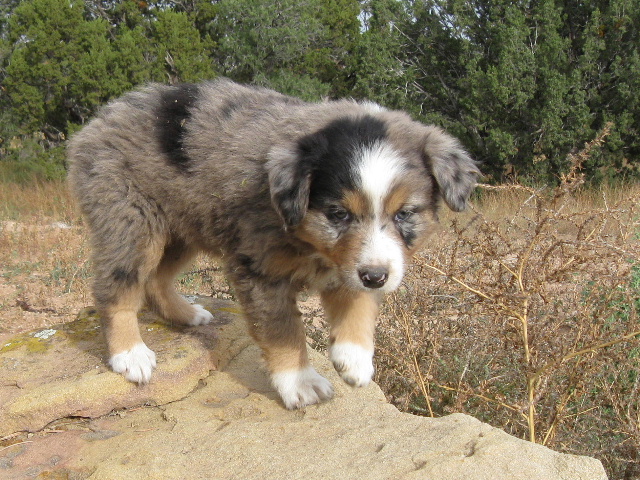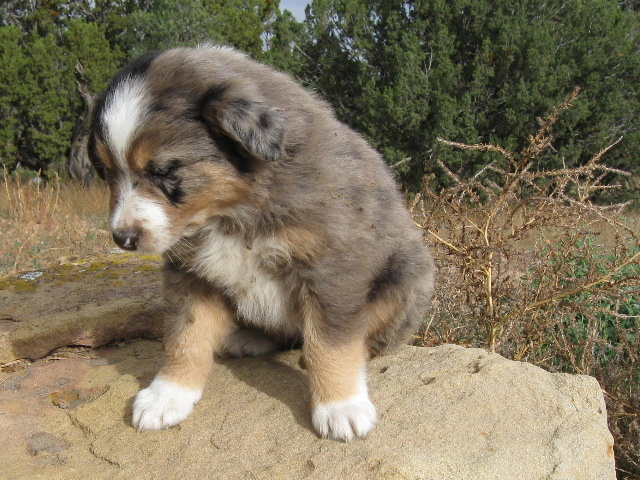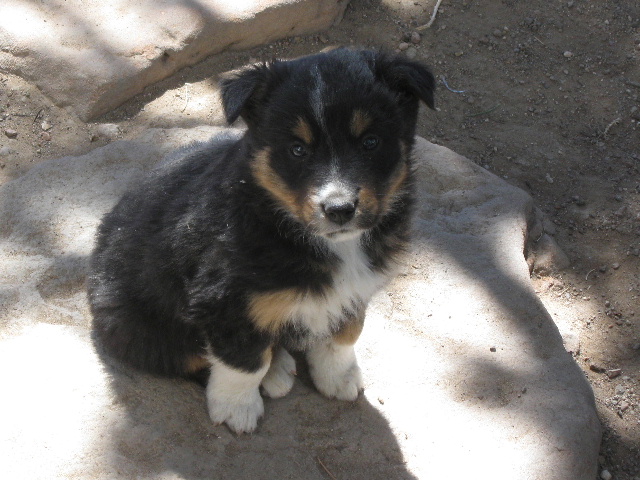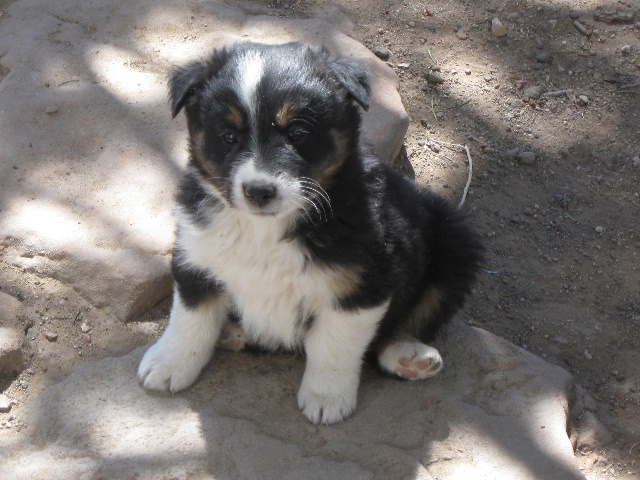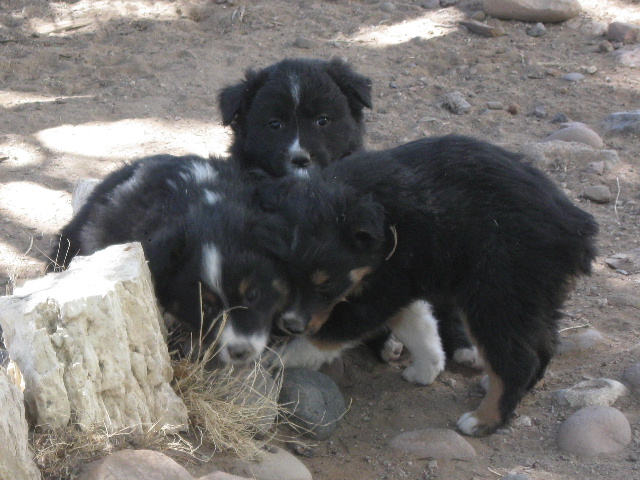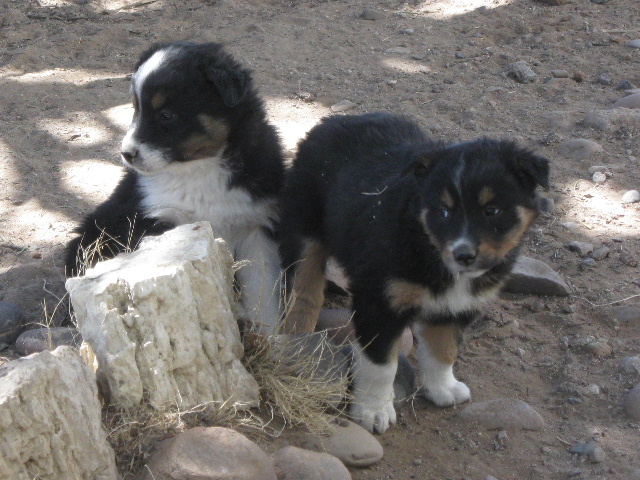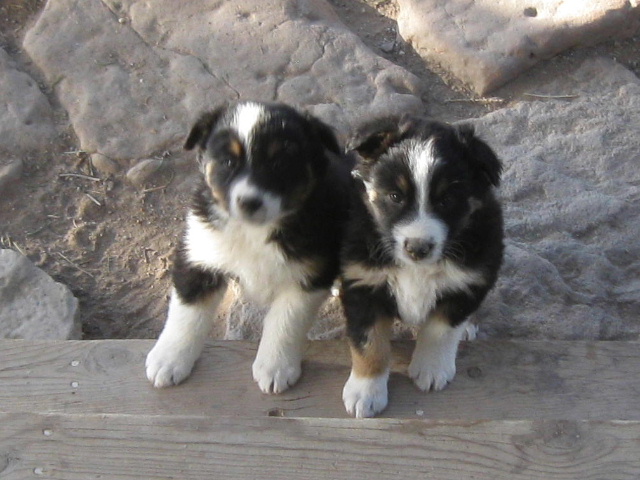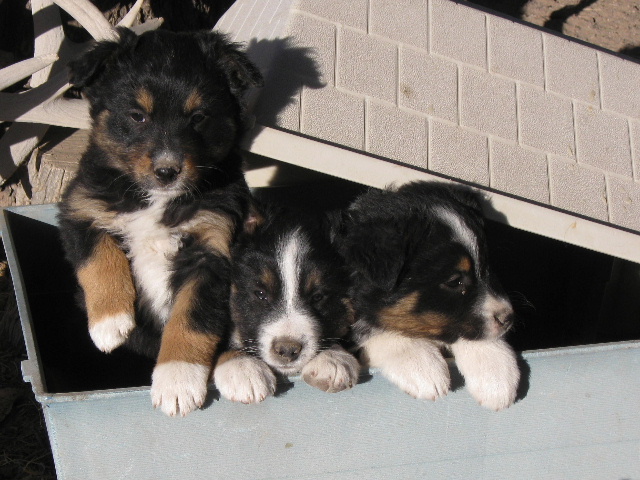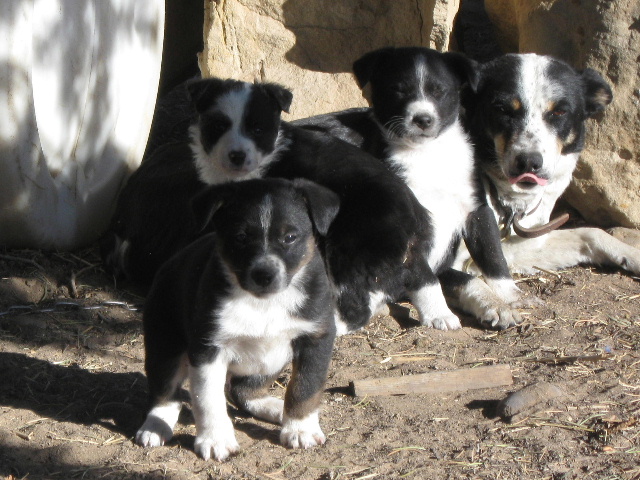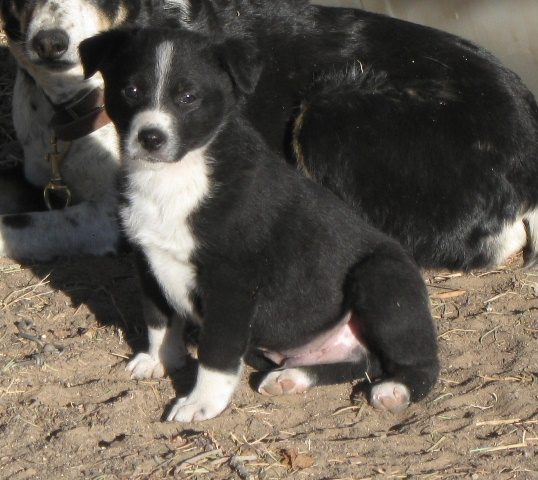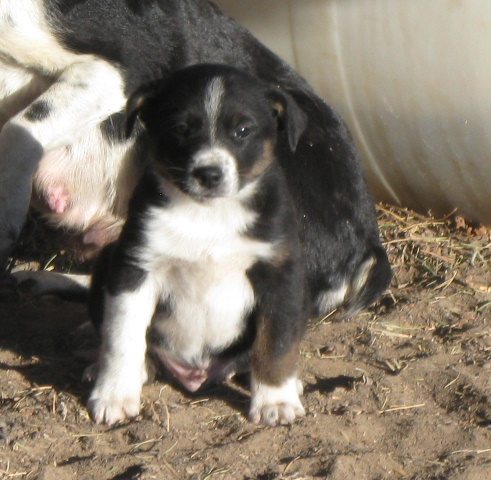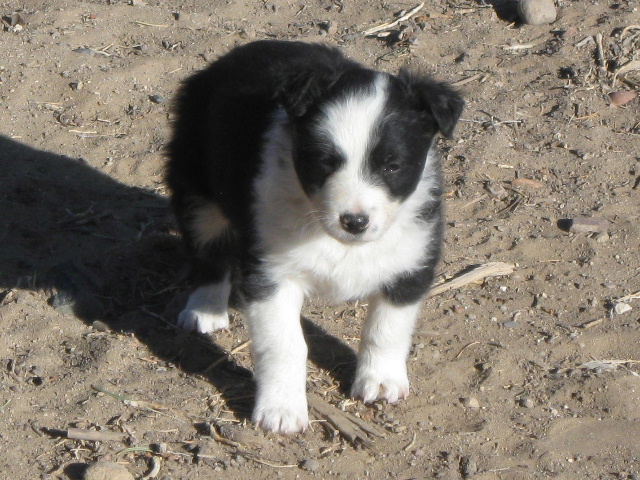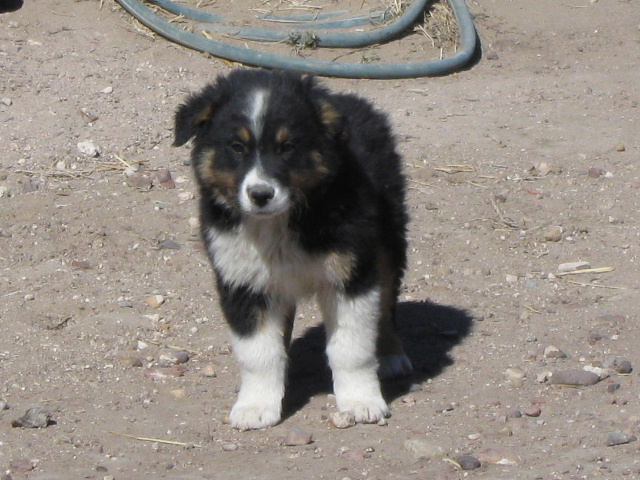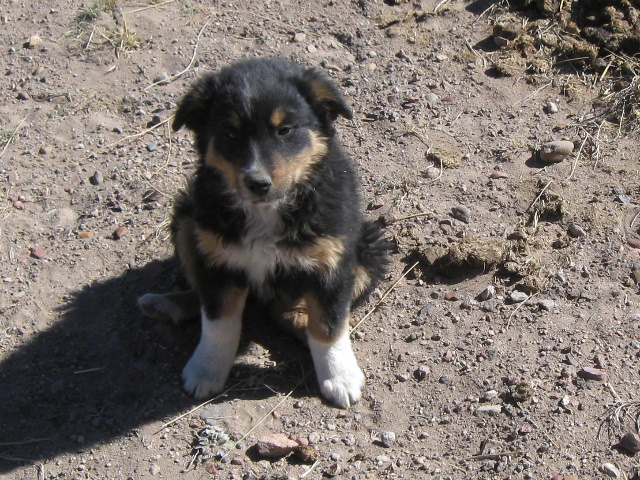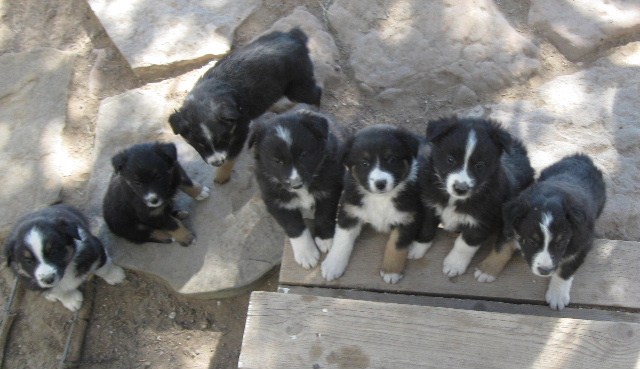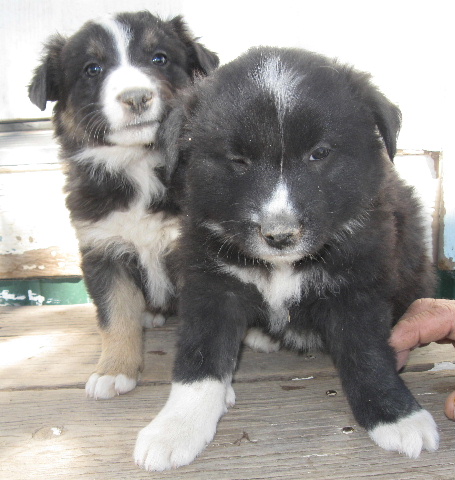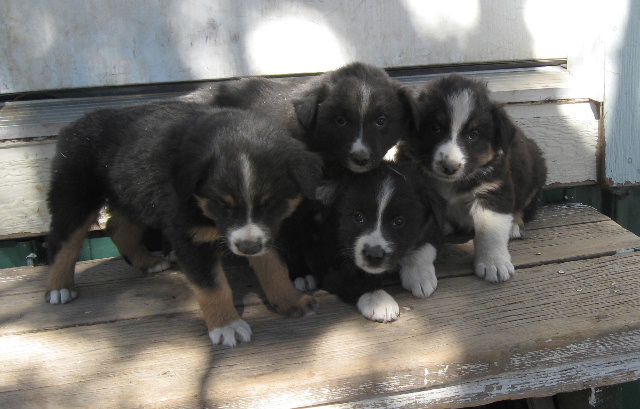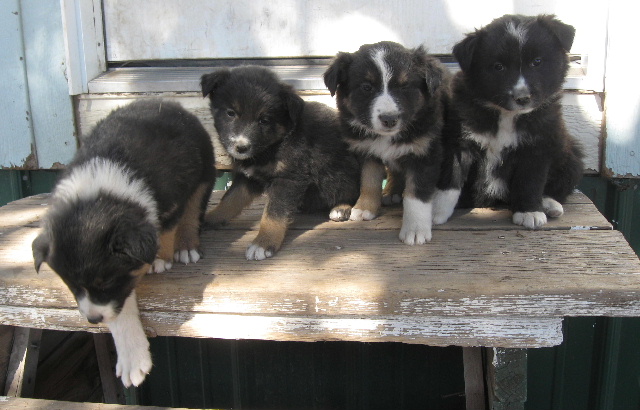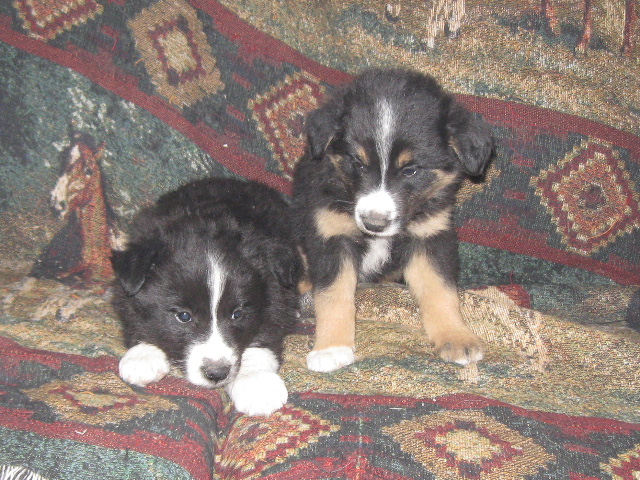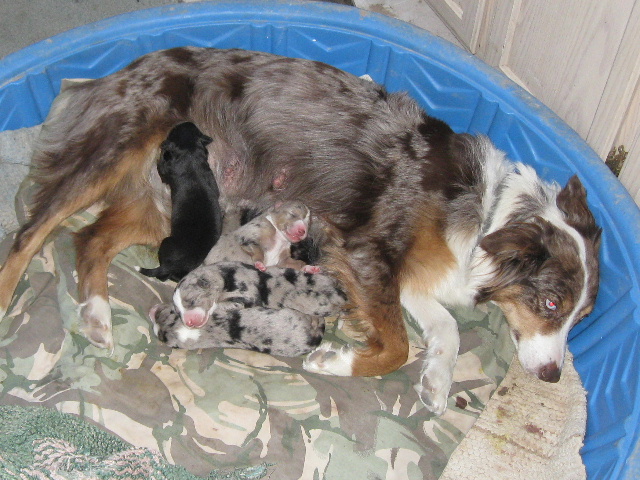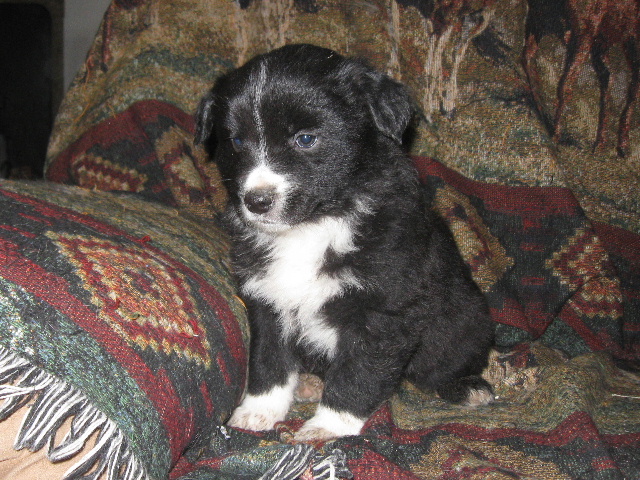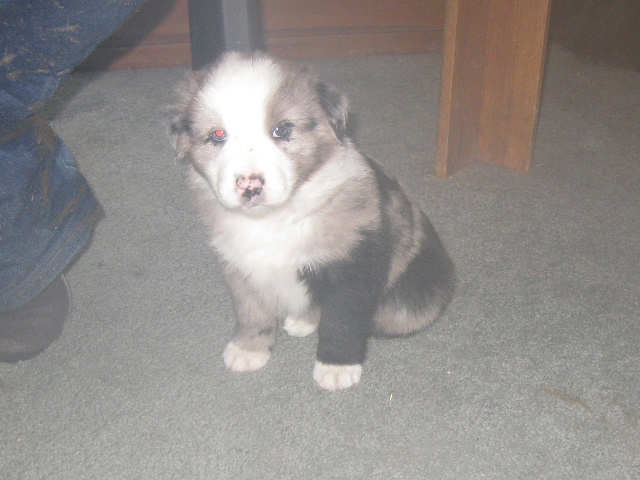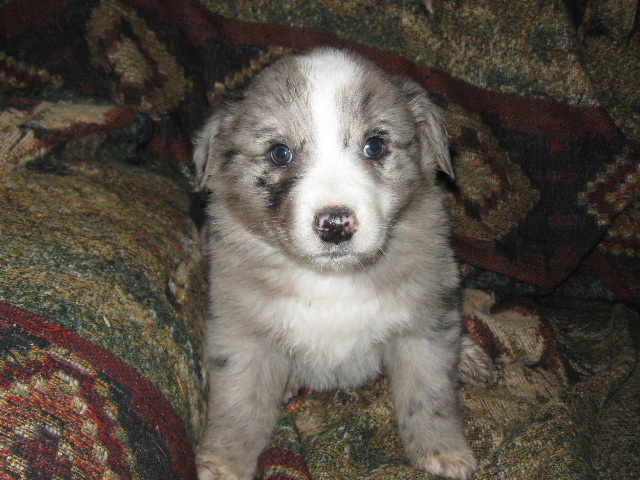 SOLD--Thanks Nicole and family!!!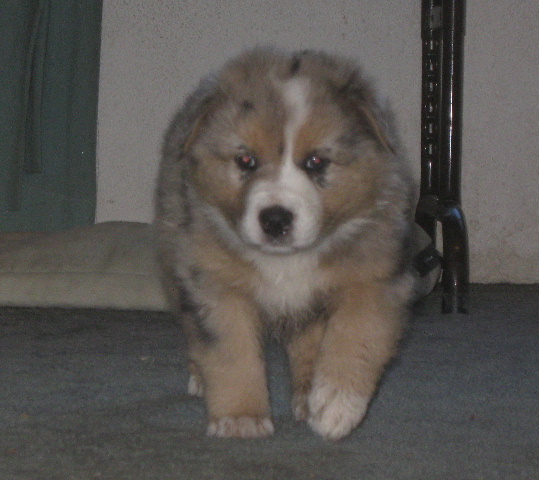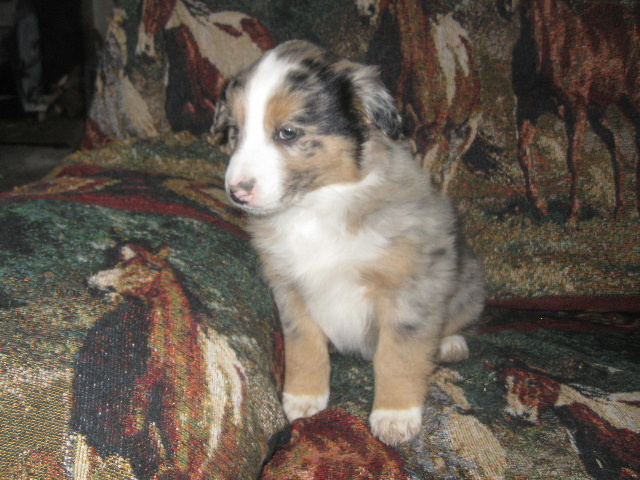 SOLD--Thanks Deke and Dustin!!

SOLD--Thanks Twila and Mark!!

SOLD-Thanks Eric and Kathy!!!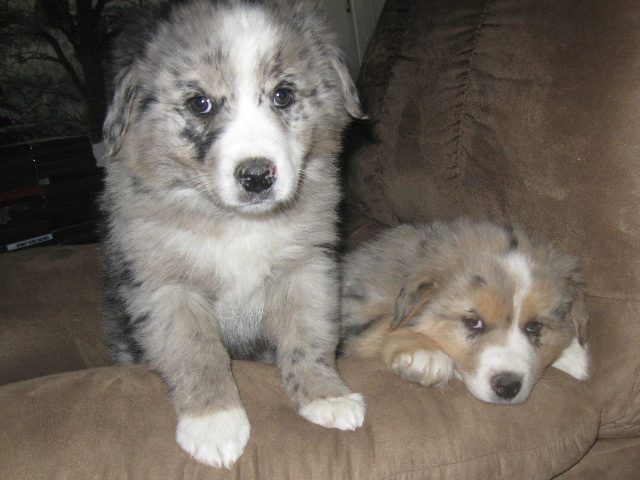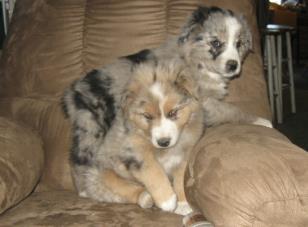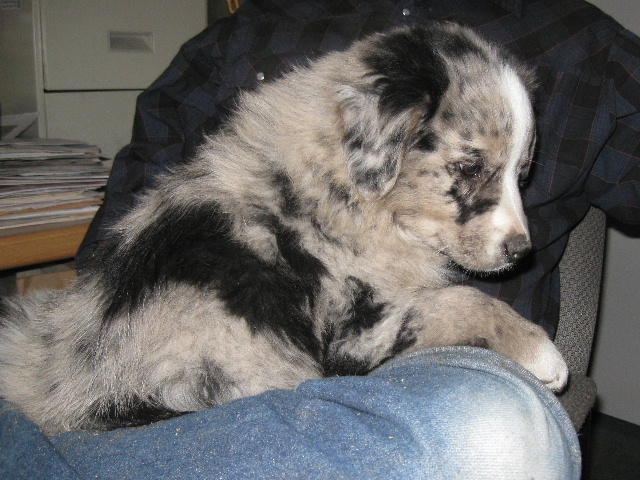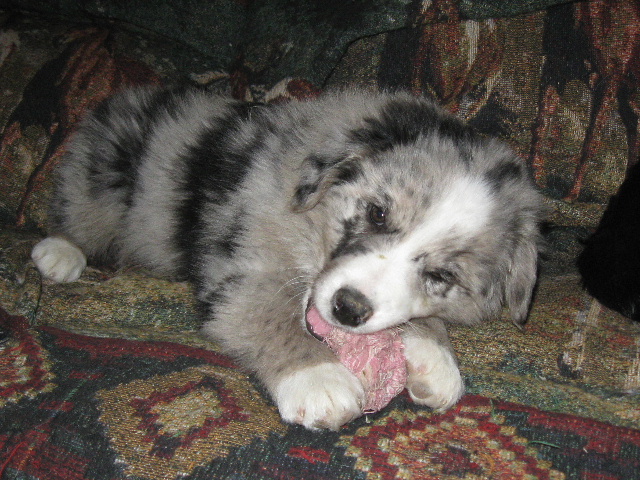 Two Litters of Puppies now available!!

Litter 1: ASCA purebred Australian Shepherds

1 Blue Merle Female $550

Litter 2: 2nd litter of ASCA pups

1 blue merle male $450, 1 blue merle female with blue eyes

These pups have theri tails docekd and first shot at six weeks. All parents are working dogs.

Great companions, working, agility, etc.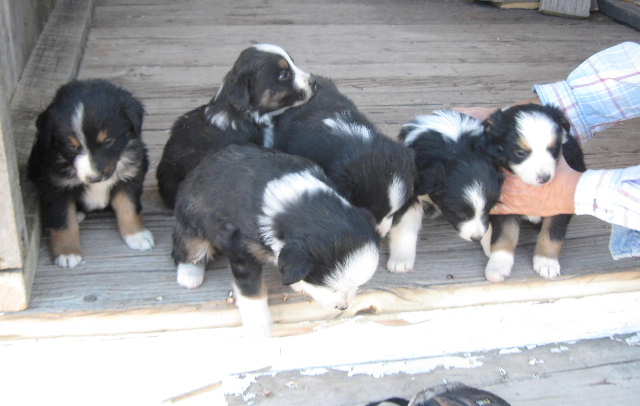 These Slick and Rowdy ASCA pups are all sold--thanks to our puppy buyers! Born Oct. 20, 2012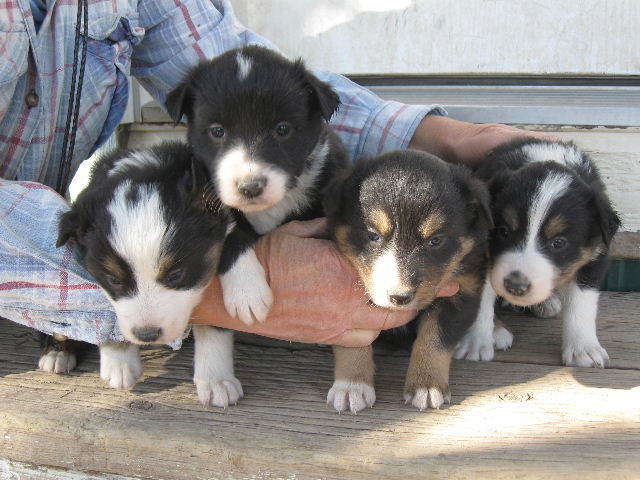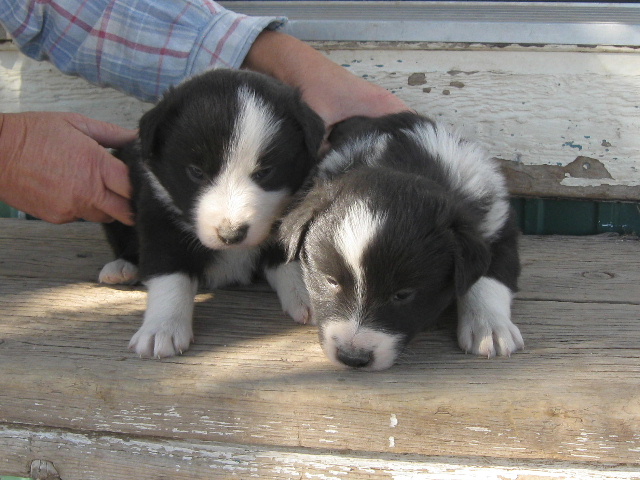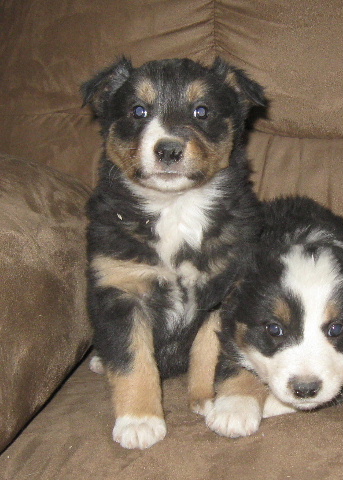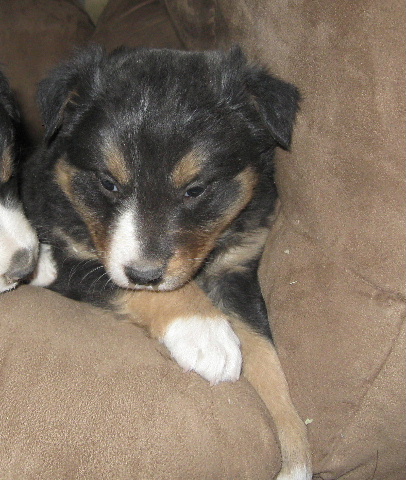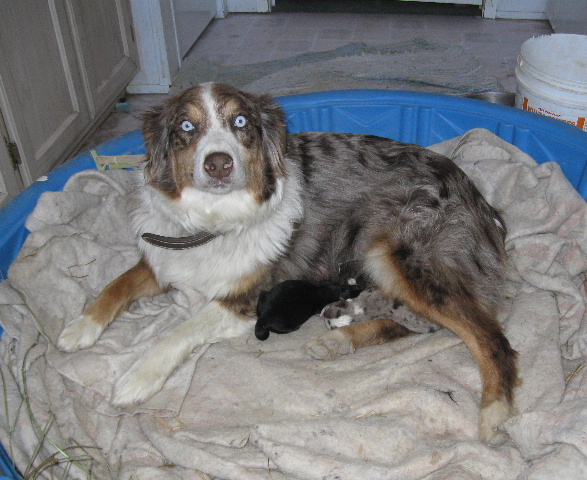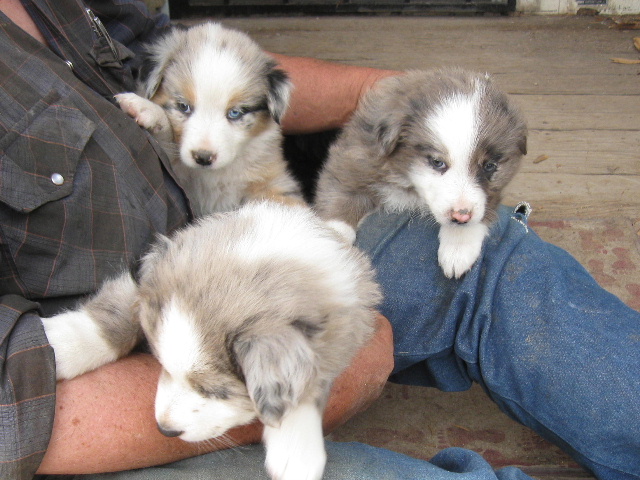 Click photo to see more ASCA pups info and pics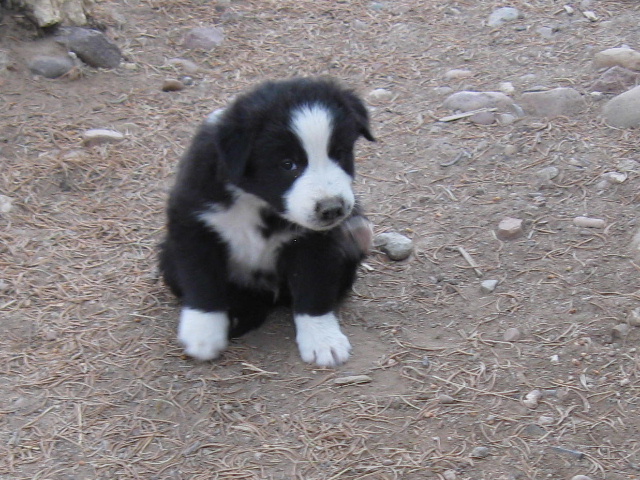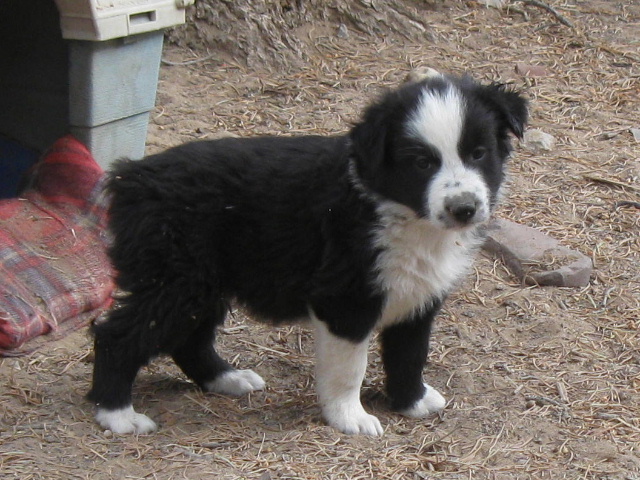 Bella's Boys:  "Butch" and  "Sundance" (right) $125 each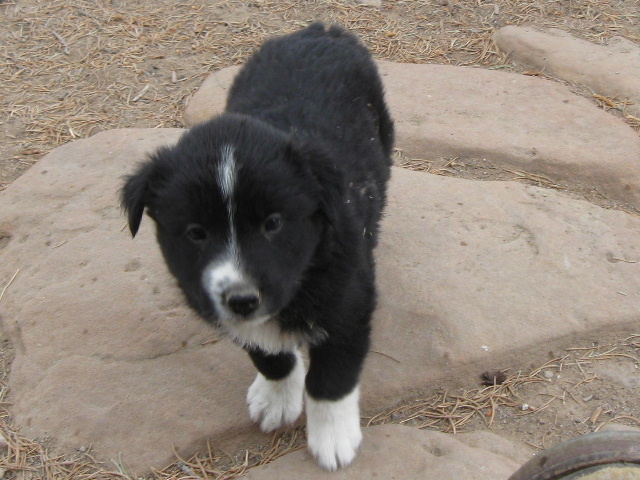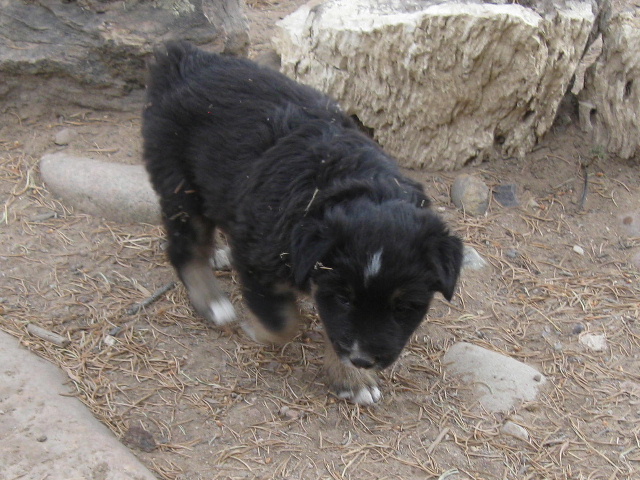 "Frank" and "Jesse"  $125 each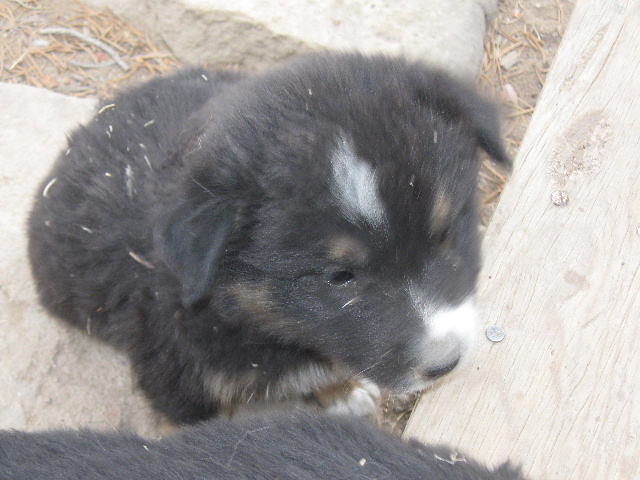 "Calamity Jane" the only female in the litter. She and Jesse look a lot alike, they are both tri colored with very similar faces. Jane already likes to play in the water.     $150

SOLD, thanks to thte Stephens